Allotment gardens have always been ridiculed by the real estate market. They were considered a haven of stuffiness and something for old people. But things are changing. Mainly because in the Corona pandemic they have become for many the last retreat where one could move freely. The demand is enormous, prospective buyers are now queuing up. Their only disadvantage is that they are not right on the doorstep, but are usually only accessible by car. To ensure that the commute between the garden and one's own four walls runs smoothly, a car boot is the first purchase a new garden owner should make. We show why.
Car boot tub for allotment gardeners – why is it so important?
At the latest when they drive the first load of weeds and compost to the recycling centre, you realise that car boot tubs are essential for survival. You have to remember that the same things happen in an allotment garden as in a house with a garden. You trim the hedge, you dig in the soil and you mow the lawn. Much of it can be thrown on the compost heap, but just not all of it. That's why gardeners take garden waste bags to take the stuff to the collection point. These bags are usually made of fabric or plastic so that they can be folded up. Holes therefore often form at the bottom because twigs, branches and thorns pierce them. What this means for you is that you put a bin liner in the boot and take it away. During this time, liquid can escape from the waste at the bottom. If this leaks into the lining in the boot, have fun cleaning it. You will never get the stench out again. A good boot tray, on the other hand, is waterproof. You can remove it and simply spray it off – and that's it.
Which boot tray to choose?
It is important for your purposes that you choose a model that is appropriate for the size of your car. Too long or too wide will not fit, of course. Our recommendation is that you find a material that cannot absorb any liquids under any circumstances. Otherwise, the waste water from the compost could be stored and the smell would then last for a long time.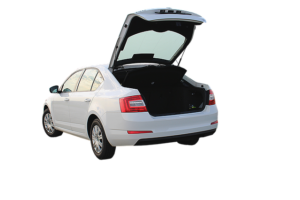 Furthermore, it is important that the rim is high enough so that it is a real tub. It should also be stable enough to provide leakage protection for larger quantities of water. It will not be unusual for you to go to the DIY store to buy liquid fertiliser, plant poison or paint, for example. And you do so in buckets. Should one of these containers leak, the boot would be ruined if the tub overflowed.
Therefore, always remember: if you decide to have an allotment, a boot tub will be its most important companion.